In this article I will outline all the steps that I take to create an oil portrait painting that will last a lifetime and can be handed down to future generations.
Initial Meeting
Generally speaking, I do not simply sit a person down, look at him and start painting. If my habit were to paint the first thing that I see, then my pictures would reflect the mundane surroundings in my everyday life.
My goal is to produce a painting that is more exciting and interesting than everyday life. I do a lot of preparation in designing a picture before I even pick up a paintbrush. This is what separates art from an ordinary snapshot.
I start by asking my client if he has any general preferences. This may include the type of setting, clothing, facial expression, family pets, et cetera. Sometimes it can be something as simple as a child's toy, a favorite room, or a preferred color.
A surprising number of people voice no personal preference at all, though many others do, and a few even have strict guidelines. I really don't mind having some direction to start with, in fact it can help cut down on the daunting number of possibilities involved in creating a picture.
Photo Sessions
The next step is scheduling an appointment to take photographs of my subject. The photo shoot takes roughly an hour.
It is usually done on location and rarely in my studio, unless it is a simple "head and shoulders" portrait. Looking at my paintings, you will know why. I would prefer to paint people in specific settings or with things that are important in their life.
Actually, I consider this the most important part of the process, and I will take time to explain why.
In short, the photo shoot is where I explore ideas for the portrait painting. Once I have a good idea, the actual process of painting is not difficult (albeit time consuming) since I have mastered my technical skills long ago.
During the photo shoot I may open shades, block window light, rearrange furniture, ask my subject to change clothes, rummage through their closets to pick clothing (I've even convinced a couple of people to go and buy clothing items), you name it.
If we are taking photographs outdoors I may have to scout the site ahead of time for the best time of day or the best position of the sun. Sometimes I use props to cast strategic shadows from the sun.
All this may be likened to a stage director who is in charge of setting the dramatic scene for maximum effect.
If I do not find what I am looking for in the first sitting, I will do additional photo shoots until I find what I am looking for. Sometimes I will schedule more sessions just to refine an originally rough idea.
On average I do two to three photo sittings of a single person, though I think I have done as many as six or seven.
Preliminary Sketches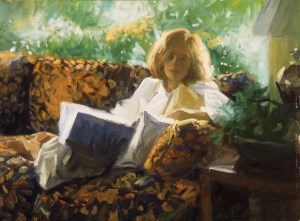 When I am satisfied with my photos, I paint a small full color sketch of the idea I have in mind for the portrait. If I have more than one good idea then I paint more sketches and let the client chose the one he likes best. I usually end up painting at least a couple of sketches, but I have done as many as seven.
Each sketch is normally a compilation of many different photographs since I rarely capture every detail perfectly in one photo. Not even counting the background items, I may use a separate shot for each hand, the hair, the legs, even different parts of the face may be better in one shot than another. The sketch allows me to work out design concepts quickly on a small scale, whereas on a large painting, major corrections could take weeks.
Client Approval
Next, I show the sketch(es) to the client for approval.

I do this whole process with little or no upfront payment because I want to retain the freedom to experiment and express different ideas at the preliminary sketch phase, without the pressure that money can bring. If for some reason the client is unhappy with the sketch(es), he is under no obligation to proceed with the project.
After a sketch has been approved, the exact size of the final painting is determined, sometimes by painting an extremely rough full-sized sketch on a big piece of cardboard. The large sketch is then held up to the wall where the final painting will hang to see if the size looks correct. Exact dimensions of the painting can then be ascertained.
Once both parties are satisfied with the proposal, I ask the client to sign a contract and provide a down payment of one-third.
Painting the Portrait
I begin the final painting in my studio using the preliminary sketch and the aforementioned photographs for reference.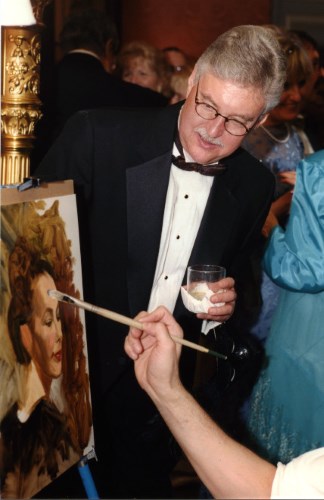 During the course of the painting I will usually ask the subject to sit for some live painting sessions. The duration of these live sittings can vary drastically due to the different specific needs of each portrait painting.
The longest sitting times I have ever required were somewhere in the vicinity of 15 or 20 hours, of course, not all at once but over many sessions. Normally it is less than half of that time. Sometimes all I need is a half of an hour or so just to touch it up, and sometimes I don't need any live sittings at all. Usually I can give a reasonable estimate of the sitting time needed after the sketch is completed.
After a lot of possibly laborious and painstaking work by me, the portrait painting is finally completed. I show the client and encourage him or her to be honest in their appraisal of said portrait. I am flexible about making changes but I am not afraid to tell them if I feel their suggested changes will harm the picture.
The client pays me the final two-thirds and walks away happy (at least that's what they tell me). I am usually sorry to see the painting go, but I have to make a living.
Final Varnish
An oil painting needs a final coat of varnish. For technical reasons, it can only be applied after the paint has cured for several months. I will make arrangements to pick up the painting at the appropriate time (usually six months) and I varnish it free of charge.
At this time I also professionally photograph the painting and provide free prints for family members and law-enforcement authorities (if needed).
Contact
If you would like to talk to me, please use the Contact Form.
Although most of my clients have been in Northeast Ohio, I have painted portraits of people in far ranging areas across the United States and Canada. Travel arrangements can always be made.